Lugano, Switzerland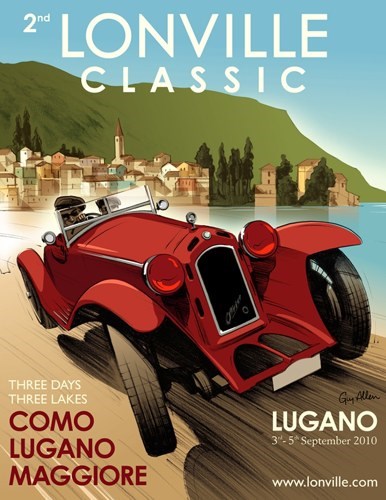 Event Type

Rally, Tour

Date

03 September 2010

to

05 September 2010

Location

Switzerland Lugano

Website

Phone

+41 76 388 47 13

Email
Sorry, we didn't receive an English translation
The Lonville Classicis a small event that brings old
and new friends together for a magic weekend where
we enjoy our shared passion for classic cars on the
shores of some of Europe's most beautiful lakes.
You will travel through old villages, along winding lake-
side roads and across breathtaking mountain tracks.
Timed road stages are interrupted for good food in
glorious locations. La dolce vita!
Program
Preliminary, subject to refinement
The Lonville Classic is a City of Lugano event.
Thursday 2 September 2010
17.00 –19.00 Welcome Cocktail & Registration & Briefing, Lugano
Free evening program
Friday 3 September 2010
09.00 –12.30 Stage 1: Lugano -Lago di Como
12.30 –14.30 Lunch
14.30 –17.30 Stage 2: Lago di Como -Lugano
19.30 –22.00 Dinner & Wine Tasting
Saturday 4 September 2010
09.30 –12.30 Stage 3: Lugano -Lago Maggiore
12.30 –14.00 Lunch
14.00 –18.00 Stage 4: Lago Maggiore –Lugano
20.00 –22.30 Dinner & Lonville 2010 news
Sunday 5 September 2010
09.00 –12.30 Stage 5: Lago di Lugano
12.30 –13.30 Lunch
14.00 –16.30 Public Car presentation, Prize-giving & Charity event
16.30 Individual departures
The event
Although the Lonville Classic is about fantastic driving, the event is also about enjoying cars with good company. Each of the navigated stages will feature some (mild) competitive elements to both amuse and confuse participants and onlookers. The Lonville Classic is a regularity event, all stages use public roads.
To reward your work behind the wheel, and in true Italian style, we will make time for important things: espresso, long lunches, good dinners and fine wine.
The Lonville team is very excited to organise the second Lonville Classic after the magical 2009 event. With 20-25 cars we will retain the intimacy and informal style of last year's event while adding some of our latest favourite places and those impossible to find glorious lake-side roads.
A word on qualifying cars: we are vintage/classic car enthusiasts and that means all cars older than 20 years are welcome. Of course we make exceptions too!
Logistics
Participants are kindly requested to arrive in Lugano on Thursday 2 September for registration and collection of final program, maps and instructions. The Lonville Classic starts and finishes in Lugano each day, allowing participants to stay in the comfort of one hotel for the duration of the event.
Preparation
Cars should be in good working order. We recommend a good functioning cooling system to deal with the warm South European climate. Participants and co-drivers do not need to have any previous experience with navigation. Other than a watch, no formal timing devices are required.
Classic Car specialist Lex van Lammeren (www.lexclassics.com), is participating in the Lonville Classic and will provide (emergency) technical support. A recovery vehicle can be arranged to bring your car to a local classic carspecialist.
Sunday Dress Code
Following last year's fun, we encourage participants to dress to fit your car (i.e. vintage style clothing) for the Sunday stage. Needless to say there will be a
special recognition for this! Everyday special dress is even better...
Accommodation
We have made arrangements with Hotel Villa Sassa (www.villasassa.ch) for all participants.Hotel Villa Sassa has splendid views across Lugano and the lake,
and is a few minutes walk from the centre of Lugano.
Event Cost
The participation cost of €950 per person covers 3 nights hotel (thu, fri, sat), welcome cocktails, three special lunches, wine tasting, coffee stops, two wonderful dinners, bus transfer to dinner location, event documentation and all other event services offered. Additional hotel nights can be pre-booked at our
favourable rate.