Monterey - California, United States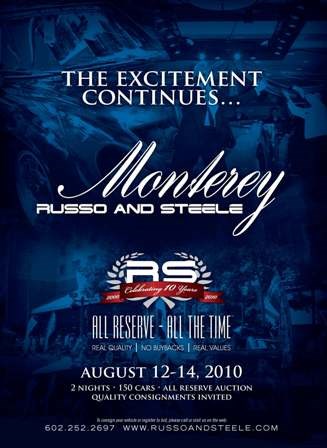 Event Type

Sale, Auction

Date

12 August 2010

to

14 August 2010

Location

United States Monterey - California

Website

Email
Sorry, we didn't receive an English translation
Monterey, CA (Jun 4, 2010) -- Celebrating its 10th Anniversary this August 12-14, 2010 in Monterey, California Russo and Steele is not only expanding to a three evening auction, but is also bringing some of the highest quality and most historic automobiles to the Monterey Peninsula. The Monterey auction event will present a range of the most luxurious and collectable European sports, American muscle, hot rods and custom automobiles suitable to satisfy any automotive desires. Located at the epicenter of historic, downtown Monterey, Russo and Steele at the Marriott hotel will provide every enthusiast a unique and memorable event.
Collectors look for the trinity when searching for that perfect new addition; originality, historic provenance, and quality. This particular automobile has all three. This 1969 Boss 302 Trans Am Race car driven by Parnelli Jones is only one of two left in existence and needs no introduction to the racing community. It was Factory Ford built by Kar Kraft, fully certified, documented, and registered by the "Historic Trans-Am Registry" and the FIA.
Built as a one-of-a-kind "Daytona Special," this Boss 302, 9F02R112074, is listed in the Boss 302 World Directory as the prototype and main Trans-Am team car for Bud Moore. 112074 was one of two prototypes cars built side-by-side with 112073 at Ford's Racing Division, Kar Kraft Engineering.
This automobile was the first Boss 302 powered Mustang to do battle; debuting at the Boss 302 competition at Daytona in February 1969 at the Citrus 250 NASCAR event with Bud Moore and driver Parnelli Jones. During the season it was driven by Jones and Follmer and was identified as #15 or #16 depending on the driver.
112074 is listed as a Shelby Trans-Am team car in the Shelby American World Registry because it was also used by the Shelby American Team. Today, this is the only Trans-Am Mustang to enjoy the honor of having been used by both teams.
Only six 1969 Bud Moore/Ford Motor Co. "Team" cars were built and four of those six were either totaled or scrapped out at the end of the season. After the 1969 season, all of the remaining cars were upgraded to 1970 body and mechanical configurations.
Only four 1969 Ford/Shelby Team cars survived; the #16 George Follmer VIN #9F02M148623, the #1 and #2 Blue Shelby Team cars, and this 1969 Boss 302 Trans Am Race Car offered at Russo and Steele's Monterey auction event.
For additional information or high resolution images please contact Stephanie Quinn at
[email protected]
http://www.youtube.com/watch?v=TzopfTzDAfw