United States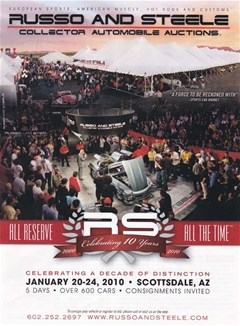 Event Type

Swapmeets/Autojubble

Date

20 January 2010

to

24 January 2010

Location

United States

Website
Sorry, we didn't receive an English translation
Russo and Steele : Celebrates 10th Anniversary
January 20-24, 2010- Scottsdale /Arizona /USA
What's happened to Russo and Steele in just the last year is almost impossible to believe!
It's hard to believe that Russo and Steele is celebrating its tenth anniversary this year. Over the years we have evolved into one of the "big three" collector car auctions, and one of the most respected auctions in the world through the combined effort from the hard work of many great people, and consistent innovation.
New to Russo and Steele this year is the LIVE online auction webcast: The overwhelming success of the webcast was shocking! Within 2 minutes of us testing the webcast prior to the (Monterey) auction starting we had over 250 people watching and it increased at amazing speeds as the night progressed. Our clients and enthusiast's have proven their passions for this hobby. We have continually stated that "for enthusiasts by enthusiasts" is not just a tag line, but a lifestyle for us and the webcam allows us to open up our highly unique and exciting auction to fellow enthusiasts that are not able to make it to the event.
Scottsdale 2008 was the beginning of a new auction format; ALL RESERVE, ALL THE TIME. The All Reserve platform has proven beneficial for everyone; consignors get a measure of control over the sale of their automobile, the auction house has the opportunity to increase the quality of its selection offered at the sale, and bidders have the opportunity to buy some of these stellar automobiles that might not otherwise be available. The promise of high quality automobiles at market relevant prices is just one of the major benefits Russo and Steele bidders saw as a result of the platform change.
The increase in quality of collector automobiles in Russo and Steele's auction events far surpassed previous year's selections; this is a direct result in the ALL RESERVE format. Our tremendous success with this platform clearly demonstrates that selective discriminating buyers demand for well documented, numbers matching, high caliber collector automobiles. This increase in premium automobiles proves our ALL RESERVE format is working and that it benefits everyone. Russo and Steele is merely the first auction to realize this, but we're sure we won't be the last.
The combination of higher caliber automobiles and the intense excitement found on Russo and Steele's auction block make this auction event an unforgettable experience; no other auction event can compare to the electric and exciting atmosphere of Russo and Steele.
As local Phoenicians, Josephine and I are so proud that Russo and Steele has been dedicated to the support of our community through charitable giving. Over the past 10 years we've been able to donate well over $850,000.00 to local charities around the valley. This kind of generosity was made possible by your generous support of our kick-off preview gala. This year the premiere Opening Night Gala with live entertainment, hosted bar and heavy appetizers will benefit Big Brothers Big Sisters of Central Arizona.
And the momentum hasn't stopped! We can't tell you how thrilled we are to be in the process of producing our 10th Annual auction event in Scottsdale. Scottsdale Sports and Muscle will be held, January 20th-24th, 2010; at our tradition home in North Scottsdale at the intersection of the Loop 101 Freeway and Scottsdale Road. The caliber of quality consignments is through the roof, and with last years success we cannot wait!
Our mostly-volunteer staff has grown too, and we now have some seasoned and professional "car guys and office staff" to handle jobs that Josephine and I used to run around doing in years past. From the minute you arrive on-site, we know that we have the right staff to attend to all your needs. We can't tell you how thankful we are for their support.
Of course, with all of this, we have not lost sight of our objective. We are 100 percent committed to offering the finest in European Sports, American Muscle cars, Hot Rods and Customs in an intimate environment. Camaraderie amongst enthusiasts IS why we do this, and it is our goal to produce this event with professionalism, discretion, and most of all, for the love of the hobby that we are all a part of.
Let the show begin!
Drew and Josephine Alcazar
For more information, contact:
Stephanie Quinn,Phone: (602) 252-2697
[email protected]
http://www.russoandsteele.com
You have to watch the videos on:
http://www.russoandsteele.com/videos.html
And here are a few highlights of the Anniversary-Auction:
http://www.russoandsteele.com/featured_automobiles.html