Remouchamps, Belgium

Stuttgart, Germany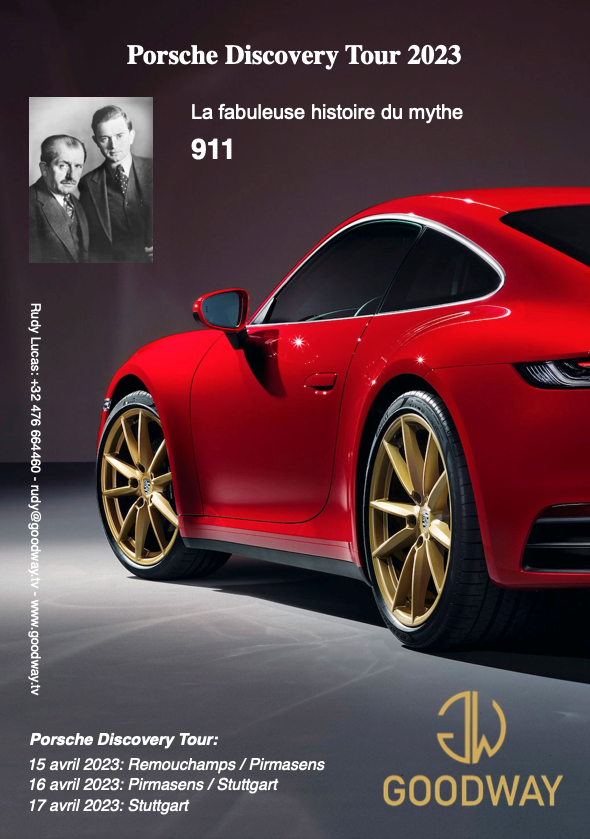 Event Type

Rally, Tour· Shows, Festivals

Date

15 April 2023

to

17 April 2023

Departure location

Belgium Liège 4920 Remouchamps Square Philippe Gilbert 1

Arrival location

Germany Bade-Wurtemberg 70714 Stuttgart Seidenstraße 34

Website

Event organiser

LUCAS Rudy

Inserted By

Phone

+32476664460

Email

Document
Friends, partners, members and enthusiasts,
Once again, the GOODWAY team is pleased to share its events with you.
For its 13th edition and first of the year, the team offers you nothing but an epic in Stuttgart for the Porsche Discovery Tour. This exceptional stay will begin with a breakfast at the R Hotel Experience in Remouchamps. The 28 crews will set off for a first day of 300 km. The carefully selected route will cross the Luxembourg Moselle. The caravan will be expected in the late afternoon for a stopover at the Kunz Hotel in Primasens. The time to eat associated a good night's sleep and we will leave for 200 km.
The second day will crisscross the north of the black forest and will be marked by the arrival in Zuffenhausen for the visit of the Porsche museum.
The third day will be of particular interest, as the morning will be devoted to the visit of the Porsche factory and the discovery of the 911 assembly line. A closing lunch will conclude our stay which will undoubtedly remain a memorable adventure.
Once again, we do everything to satisfy your thirst for driving and adventure. The GOODWAY events have become a must for car enthusiasts, gastronomy enthusiasts and conviviality.
Come discover a concept, an atmosphere 
Tags: