United States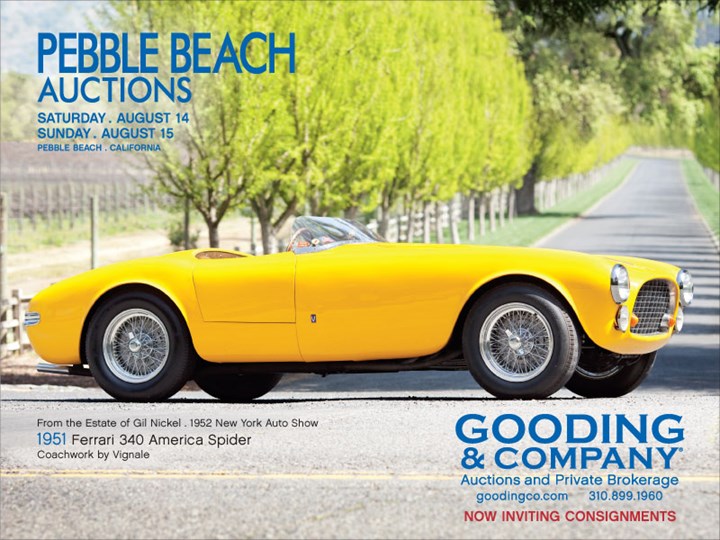 Event Type

Sale, Auction

Date

14 August 2010

to

15 August 2010

Location

United States

Website

Email
Sorry, we didn't receive an English translation
FROM HOLLYWOOD TO HISTORIC RACE CARS,
GOODING & COMPANY ANNOUNCES SUPERB CARS
FOR ITS 2010 PEBBLE BEACH AUCTIONS
SANTA MONICA, Calif. (June 2, 2010) – Gooding & Company, the official auction house of the Pebble Beach Concours d'Elegance, is thrilled to announce the consignment of three extraordinary collector cars for its annual Pebble Beach Auctions: a legendary Mercedes-Benz once owned jointly by two of the Marx Brothers, a winning 1956 Maserati 200 SI raced by Sir Stirling Moss and an award-winning 1951 Ferrari 340 America from the estate of devoted enthusiast Mr. Gil Nickel. Gooding & Company's internationally-renowned auctions will take place on Saturday August 14 and Sunday August 15, 2010 at the Pebble Beach Equestrian Center, commencing at 5:00 p.m. on Saturday and 6:00 p.m. on Sunday.
"Cars with such incredible history and pedigree truly capture the market's attention. These cars are supreme examples of rarity and connoisseurship with connections to three great marques," says David Gooding, President and founder of Gooding & Company. "We are particularly pleased to offer cars that have rarely been seen in public or previously available on the open market."
The 1927 Mercedes-Benz S Boattail Speedster, regarded as the ultimate sporting car of its era, was owned by the Marx Brothers. After appearing in the film Sylvia Scarlett starring Katharine Hepburn and Cary Grant, the S Boattail later played the lead in a different performance, a legendary race called the "Muroc Match Race." Arising from a bet between Zeppo Marx and Phil Berg, Clark Gable and Gary Cooper's manager, the S raced against Mr. Berg's Duesenberg Model J on the dry lakes of East Los Angeles while many Hollywood personalities stood by to witness the excitement. It was one of the most famous automotive exploits in American history and has become something of a Hollywood legend. Amazingly, the one of a kind supercharged Speedster has resided in California since new and has rarely been seen in public. Highly original in condition, this mythic Mercedes-Benz is still fitted with many of its unique features and even retains its 1950s yellow and black license plates. One of very few Murphy-bodied Mercedes-Benz cars ever made, this extremely important car will be offered to the public at auction for the first time ever.
Notably car number one of Maserati's 200 series, the 1956 Maserati 200 SI was the factory works team and development car for many years. Retaining an outstanding racing record to this day, the 200 SI participated in all the great European and South American events during its racing career, capturing podium finishes at Nurburgring, Napoli, Caraccas and Bari. It has been driven by Stirling Moss, Jean Behra and Piero Taruffi and has competed in many famed races including the Cuban Grand Prix, Mille Miglia, Monza, Targa Florio and at that the Grand Prix of Rome. Most recently, the car won its class at the 2010 Amelia Island Concours d'Elegance and has proved successful in all of the important historic events. With extensive documentation, beautiful patina and its distinctively exposed original bodywork, this desirable 1950s 2-litre racing car will be a coveted motor sport offering at the Gooding & Company auction.
From the estate of the late Gil Nickel, a beautiful Vignale-bodied 1951 Ferrari 340 America will also be offered at the Sunday Auction. The late Mr. Nickel re-established the renowned Far Niente Winery and was known by many for being a devout automotive enthusiast with impeccable taste for thoroughbred cars. A fine example, this Ferrari 340 America, chassis no. 0140A, debuted at the 1952 New York Auto Show and was of the fastest sports cars of its day. During Mr. Nickel's thirty year ownership, the Ferrari participated in many internationally prominent events including the Mille Miglia, Monaco Historics, Laguna Seca Historics and the Pebble Beach Concours d'Elegance, and is still capable of driving in the world's best vintage racing events.
Today's Pebble Beach Concours d'Elegance continues to attract the best automobiles in the world. In a recent interview, the Pebble Beach Concours Chairman Sandra Button said, "The Pebble Beach Auctions are now viewed as leading indicators for the worldwide collector car and luxury car markets. In recent years, the success of these auctions has been due in large part to the high standards of Gooding & Company."
The 2010 Pebble Beach Auctions will be held at the Pebble Beach Equestrian Center. Preview days will start on Wednesday, August 11 and will continue through Sunday, August 15. The auctions will commence at 5:00 p.m. on Saturday and 6:00 p.m. on Sunday. Gooding & Company's Pebble Beach Auction catalogues are available for $100 and admit two to the viewing and the auction. Auctions are broadcast live from Gooding & Company's website on www.goodingco.com/auction. Bidder registration forms, press credentials and additional auction information are also available on www.goodingco.com or by calling (310) 899-1960. For additional vehicle information and up-to-the-minute results, follow Gooding & Company on Facebook and Twitter @GoodingCompany.
About Gooding & Company
Gooding & Company provides unparalleled service for those in the collector car market, offering a wide range of services, including private and estate sales, appraisals and collection management. The celebrated auction house recently made world history with the sale of the world's most valuable car, a 1936 Bugatti Type 57SC Atlantic, formerly of the Williamson Bugatti Collection. In the first half of 2010, Gooding & Company has sold 172 collector cars at auction totaling more than $50 Million. Gooding & Company achieved two new world records at its Amelia Island Auction with the sale of the 1931 Voisin Mylord Demi-Berline at $2.75 Million and the 1961 Porsche RS61 Spyder at $1.705 Million, and two additional world records at its Scottsdale Auction with the sale of the 1956 Jaguar D-Type Sports Racer at $3.74 Million and the 1959 Costin Lister Jaguar Sports Racer for $1.1 Million.