Lokeren, Belgium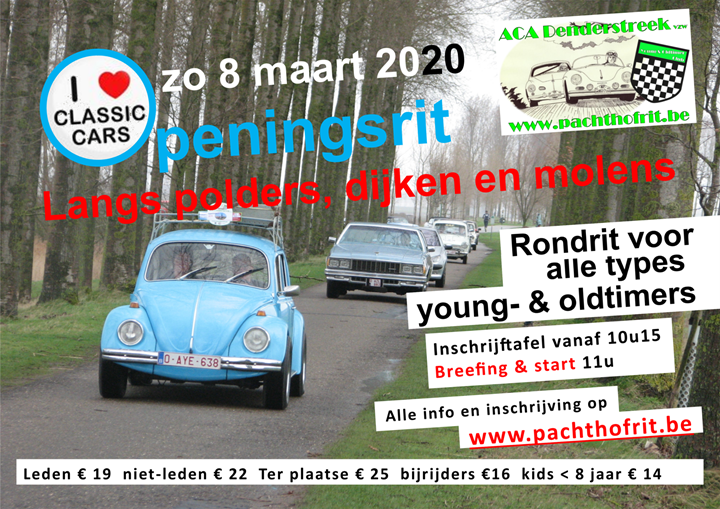 Event Type

Rally, Tour

Date

08 March 2020

Location

Belgium Oost-Vlaanderen 9160 Lokeren Everslaarstraat 209

Website

Event organiser

ACA Denderstreek vzw

Phone

+32477049802

Email
Sorry, we didn't receive an English translation

Openingsrit: Langs polders, dijken & molens. ACA Denderstreek

Het seizoen 2020 starten we deze keer met een rit die voor een stuk over onze landgrens heen zal gaan...
Langs prachtige wegen naar en in Nederland, meer bepaald richting de zuiderse provincie Zeeland...regio Westerschelde en dit langs polders, dijken en molens.
Het wordt zoals steeds een typisch ACA-evenement, met zoals gewoonlijk een tot in de puntjes uitgewerkte rit met verzorgd roadbook en leuke tussenstops.
En wat dacht je van typische Belgische gerechten als vol-au-vent of stoofvlees, en dit met frietjes natuurlijk, op de middagstop ?
Tijdig inschrijven is dus de boodschap en zoals steeds bij ACA Denderstreek...
?"driving and having fun" !
inschrijvingstafel vanaf 10.15u, vertrek rit: 11u.
U kan dit alles: roadbook, ritplaat, drank bij vertrek, inclusief middagmaal met drankje en drank bij aankomst meemaken voor de democratische prijs van € 19 voor leden en € 22 voor niet leden, op voorwaarde natuurlijk dat u vooraf ingeschreven bent !

Bijrijders betalen slechts € 16 vermits we de ritplaat en het roadbook bij hen niet aanrekenen ! Kids jonger dan 8 jaar betalen slechts € 14

Ter plekke inschrijven kan ook, maar dan ontvangt u geen ritplaat. U betaalt € 25.
Vooraf inschrijven loont dus !
Meer info & inschrijvingen: www.pachthofrit.be
Alvast tot dan!