Merchtem, Belgium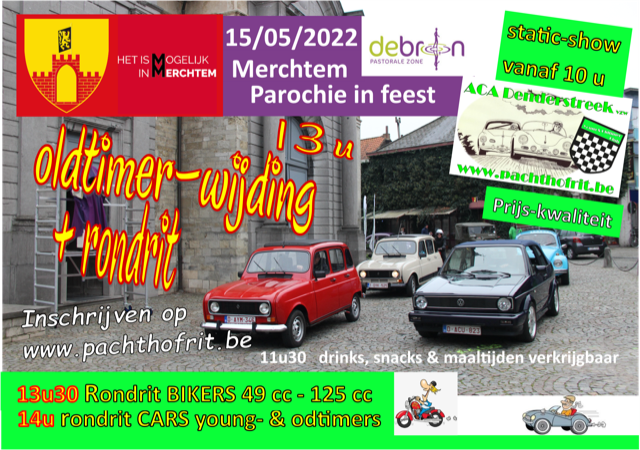 Event Type

Shows, Festivals· Rally, Tour

Date

15 May 2022

Departure location

Belgium Vlaams-Brabant 1785 Merchtem August De Boeckhuis, Reedijk, 1785 Merchtem

Arrival location

Belgium Vlaams-Brabant 1785 Merchtem Reedijk, 1785 Merchtem

Website

Event organiser

ACA Denderstreek

Inserted By

Phone

+32494189188

Email

Document
Sorry, we didn't receive an English translation
Voor alle young- & oldtimer-vrienden,
Houd alvast zondag 15 mei 2022 vrij voor de static show, voertuigwijding en rondrit in het landelijke Merchtem en randgemeenten !

Of beter nog...


schrijf nu reeds in

http://www.pachthofrit.be/oldtimer-event-15-05-2022-info.html

Bromfietsen, moto's, auto's, bestel- of vrachtwagens ... zijn welkom

Ingeschreven voertuigen uitsluitend voor de static show en eventuele voertuigwijding die zich aanmelden tussen 10u en 10u30 ontvangen 2 gratis drankjetons ter waarde van 2 x € 1,80.

Diegenen die inschrijven voor de voertuigwijding en rondrit ontvangen naast de ritplaat en het roadbook, 2 drankjetons voor bij het vertrek, 1 jeton voor de verrassende tussenstop en 2 drankjetons voor bij aankomst en dit voor elke betalende deelnemer.

Het wordt zoals steeds een typische ACA-rondrit: een tot in de puntjes uitgewerkte rit en roadbook met een leuke tussenstop


De afwezigen zullen, zoals steeds, ongelijk hebben.

Tags: