Belgium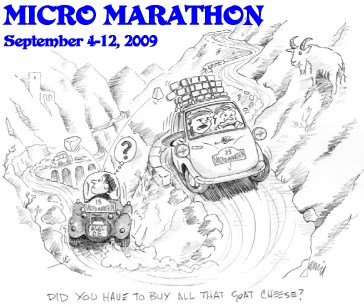 Event Type

Other

Date

05 September 2009

to

12 September 2009

Location

Belgium

Website

Event organiser

ClassicRallyPress Ltd,

Phone

0044 (0)7711 901811

Email
Sorry, we didn't receive an English translation
From the organisers of Liège-Brescia-Liège 2008, described by competitors as "brilliant", "unforgettable", "life-changing"
and "best rally ever", comes an all-new event, still in the spirit of that pioneering Liège-Brescia-Liège rally for tiny economy
cars run only once in 1958. Instead of the crowded Alps, Micro Marathon heads straight to the Pyrenees. Night halts will be
in 3-5 star hotels near Lourdes, San Sebastian, Logroño, Alcañiz, Tarragona, Andorra and Carcassonne, covering a total of
around 1400 miles (2250km). The rally is a test of endurance, of navigational skills and of driving skills with special tests on
superb kart circuits en route. Competition starts at Toulouse on Saturday morning, September 5 and ends on Friday evening,
September 11 with the prizegiving dinner in stunning Carcassonne; Saturday is free to explore the mediaeval city.
Our route recces have found stunning roads, almost totally free of other traffic, with fabulous mountain scenery, wildlife,
mediaeval castles, a Roman amphitheatre, a deserted, bombed-out city from the Spanish Civil War and much more to excite
and intrigue competitors. As with LBL, our rallies' unique feature of photo controls will be well used, including proof that you
dipped your toes in both the Atlantic and Mediterranean seas!
The rally is aimed at Microcars of the 1950s, '60s + '70s, and will be divided into pre/post 1959 categories with classes set
at up to 250cc, 350cc, 425cc, 500cc, 600cc and 700cc. Pre-war 1000cc cars are welcome too. In 2008, Fiat 500s and Vespa
400s exuding Italian flair battled with consummate German engineering in the Messerschmitts, Heinkels, BMW
Isetta/600/700, Zundapp Janus and NSU, British innovation in the composite monocoque Berkeleys, French individuality in
the Citroen 2CVs and ultra-rare UMAP, Japanese minimalism in the Subaru 360s, Austrian refinement in the Steyr-Puch and the
Australian touch in the super-cute Goggomobil Dart: we hope to attract a similar field for 2009, plus Spanish micros and Seats.
The rally is run as a tour on the road, the competitive elements being:
1. Navigation: the challenge of correctly plotting the route on the maps, then accurately navigating it;
2. Endurance: keeping an old, tiny car in perfect running order and driving it to the best of its, and your, ability;
3. Driving tests: fun tests of driving skill on several magnificent, long outdoor kart circuits in Spain.
Included in the entry fee are top hotels throughout and ALL meals, including lunches. There will be a luggage van and expert
mechanical back-up, maps will be provided as well as rally plates, side stickers and full route instructions. All this comes for
just £2400 (EUR 2750) for TWO people (£1200 each) if paid by May 8, increasing thereafter (see Regulations). Email us and
we will send you regular newsletters, as well as the Entry form and Regulations.
THE ORGANISING TEAM for Micro Marathon 2009 is led by
Malcolm McKay
ClassicRallyPress Ltd,
9 Sycamore Leys, Steeple Claydon, MK18 2RH, England
www.classicrallypress.co.uk
Tel 0044 (0)7711 901811