Brussels, Belgium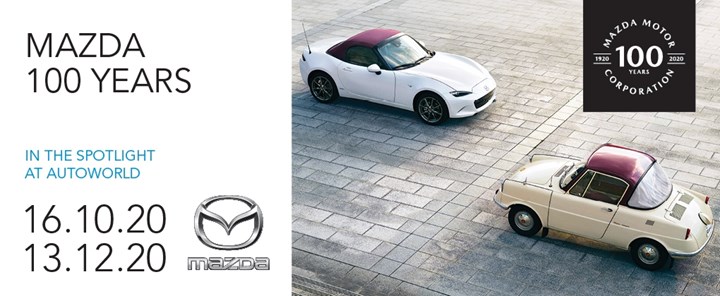 Event Type

Shows, Festivals

Date

16 October 2020

to

24 January 2021

Location

Belgium Brussels

Website

Event organiser

Autoworld Brussels
Mazda exhibition
The names Mazda and Hiroshima are inseparable. Having just commemorated the 75th anniversary of the bombing of the Japanese city, the Mazda company in the meanwhile is celebrating its centenary this year. Its history remains closely linked to its home town. Mazda originally was a manufacturer of cork. In the aftermath of the Second World War, the company was faced with the challenge of its reconstruction. Similar to a Phoenix rising from its ashes, the company, just like the city's entire population, took on the task of rebuilding from its ruins. 
The first vehicle produced by Mazda was a tricycle that resembled a motorcycle. It was fitted with an open platform. It was called the Mazda-Go and was a highly practical small utility vehicle. Its fuel tank bore the Mitsubishi logo because at that time Mazda's vehicles were being distributed via the former's network. The first real car to leave the factory was the Mazda R360, back in 1960. This was a Kei (or light car) that soon became the most popular model in the Land of the Rising Sun. A two-door four-seater coupé, with a 356cc air-cooled engine, producing 16 bhp. 
Mazda is a pioneer of the rotary engine, an innovation that numerous other manufacturers in those days considered to be impossible. This technology was introduced in the production of cars as early as 1967, such as the Mazda Cosmo Sports. It is this very same engine, slotted into the Mazda 787B n°55, which allowed Mazda to win the 24 Hours of Le Mans in 1991.  Mazda thus became the first Japanese make to win this mythical endurance race. 
Since then the Wankel rotary engine has become part of Mazda's DNA and is at the origin of its slogan "less weight, more power" 
Neither is the make lacking when it comes to design. Their Kodo design (Soul of Motion) launched in 2010, won them more than 350 prizes for design and innovation. In 2016, the Mazda MX-5 Miata is crowned "World Car Design of the Year" by a committee of automotive journalists from around the world. In the meantime, it has become the most produced roadster (more than 1 million units) in history. Rightly so! In 2020 Mazda brings out a 100% electric car.

As a tribute to this dynamic centenarian brand and with the support of Mazda Motor Benelux, Autoworld will be putting history in the spotlight from October 16 to January 24 with an extensive retrospective with images, miniatures and of course an overview of the most legendary cars of the brand including the legendary Mazda 787B, which will be brought from the Le Mans museum especially for this occasion.