Waterloo, Belgium

Marrakech, Morocco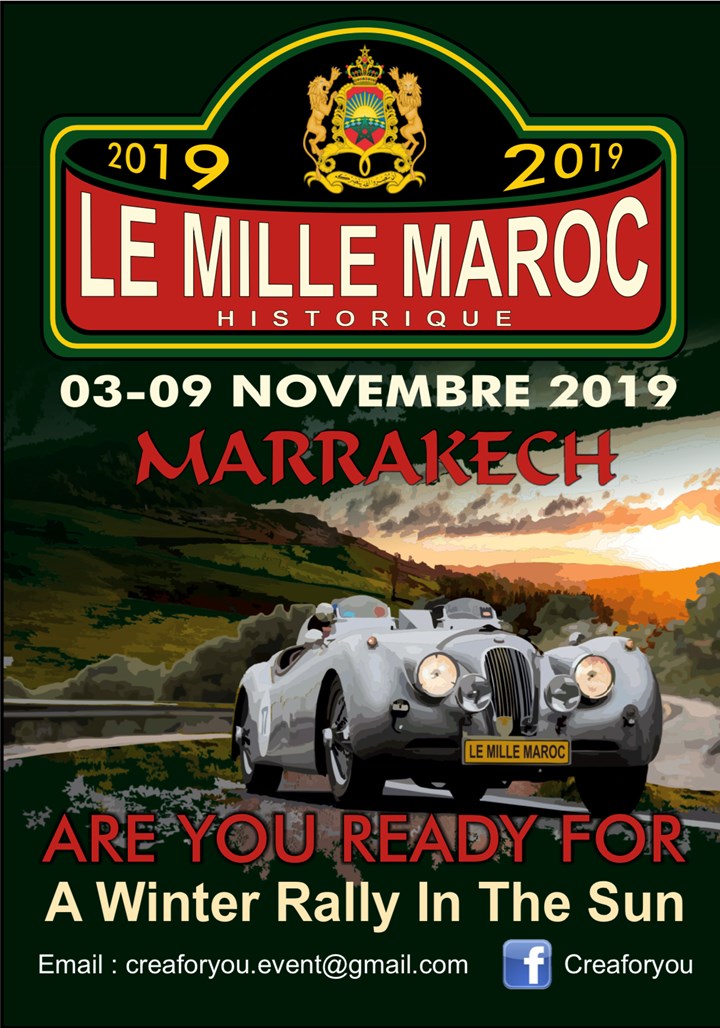 Event Type

Rally, Tour· Club Meeting· Other

Date

03 November 2019

to

10 November 2019

Departure location

Belgium Waterloo 1410 Waterloo Chaussée de Tervuren 389

Arrival location

Morocco Marrakech

Website

Event organiser

Radelet Jean Jacques

Phone

+212663242428

Email
LE MILE MAROC 2019
The most anticipated rally of this year.
An international event reserved for Classic Touring, Sport and Grand Touring cars and modern GTs.
This friendly event is organized by "CREAFORYOU", which does everything possible to ensure that the teams of duets devote themselves to their passion. 
Whether you are a fan of vintage cars, a lover of sightseeing tours, a fan of car competitions or a fan of supercars, it is behind the wheel that this passion is really expressed. 
That's why we decided to organize one of the last rallies of the season. 
"What a pleasure to unlock your car in the middle of November." 
The MILLE MAROC is a rally of tourist orientation, stroll, discovery, without notion of speed and time, in all relaxation.
The idea is to bring together amateurs and experts for a Road-Trip in our most beautiful regions of Morocco and to share, as a couple or with friends, warm and very friendly moments on roads with breathtaking landscapes, in the heart of unspoilt nature and behind the wheel of mythical cars, in complete safety and without worries.
Here the watchword is relaxation and friendliness and the aim is to chat with new friends while discovering typical and often unknown places where every moment is appreciated.
LE MILLE MAROC seeks to revive the concept of Grand Tourism with a philosophy of travel, lifestyle and passion. "The traveller sees what he sees, tourists see what they came to see"
An unusual journey towards the most beautiful Moroccan landscapes combining desert and mountain, an itinerary with 1000 bends where every moment is appreciated and where urgency has no place. 
This event is the car meeting of the winter.
---
About the organizer
EXCEPTIONAL RALLIES
Créaforyou is the only Belgian organiser to organise rallies and discovery rides in Morocco by retro motorcycle and car: Classic, Grand tourisme, Sport. It is always about the art of living and automotive passion.
We offer different facets of the country according to our organizations: from Balads to discover the treasures of Morocco, from regularity events to the search for a more intense sensation, the trip is designed to satisfy lovers of open spaces, freedom and nature….
Ultimately, Créaforyou's objective is to organize the most beautiful rallies or ballads in exceptional conditions by combining the pleasure of driving and the discovery of distant horizons, each trip gives way to adventure while cultivating the art of living, elegance and culture.
Tags: