Belgium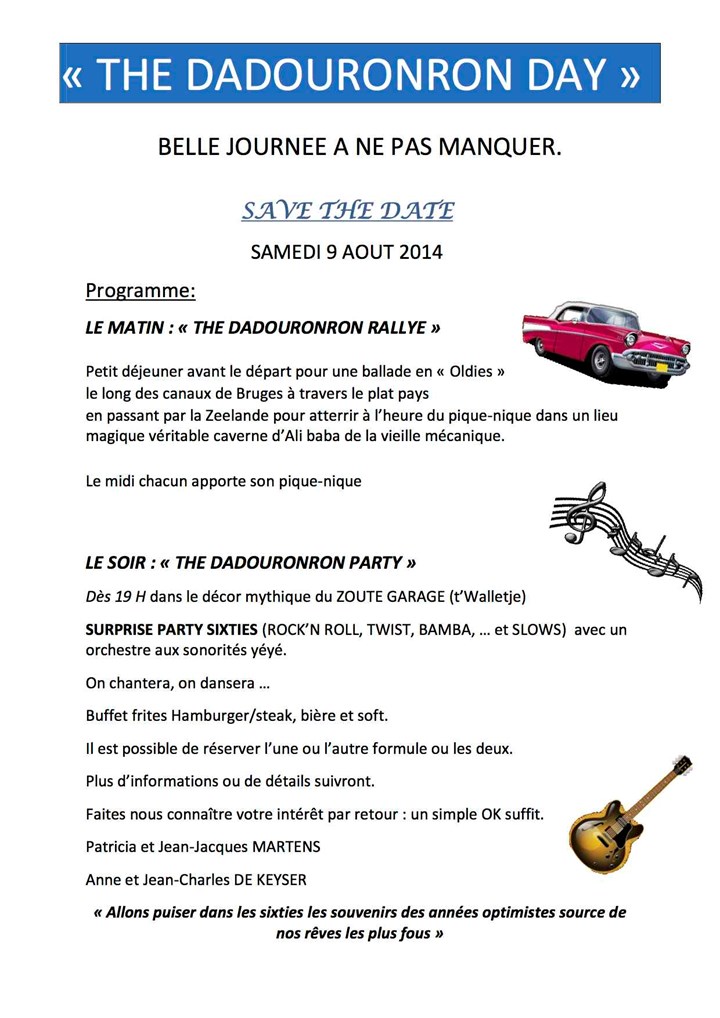 Event Type

Rally, Tour

Date

09 August 2014

Location

Belgium

Email
Sorry, we didn't receive an English translation
Programme:
SAVE THE DATE
SAMEDI 9 AOUT 2014
???LE MATIN : « THE DADOURONRON RALLYE »
Petit de´jeuner avant le de´part pour une ballade en « Oldies »
le long des canaux de Bruges a` travers le plat pays
en passant par la Zeelande pour atterrir a` l'heure du pique-nique dans un lieu magique ve´ritable caverne d'Ali baba de la vieille me´canique.
Le midi chacun apporte son pique-nique
LE SOIR : « THE DADOURONRON PARTY »
De`s 19 H dans le de´cor mythique du ZOUTE GARAGE (t'Walletje)
SURPRISE PARTY SIXTIES (ROCK'N ROLL, TWIST, BAMBA, ... et SLOWS) avec un
orchestre aux sonorite´s ye´ye´.
On chantera, on dansera ...
Buffet frites Hamburger/steak, bie`re et soft.
Il est possible de re´server l'une ou l'autre formule ou les deux. Plus d'informations ou de de´tails suivront.
Faites nous connai^tre votre inte´re^t par retour : un simple OK suffit. Patricia et Jean-Jacques MARTENS
Anne et Jean-Charles DE KEYSER
« Allons puiser dans les sixties les souvenirs des anne´es optimistes source de nos re^ves les plus fous »