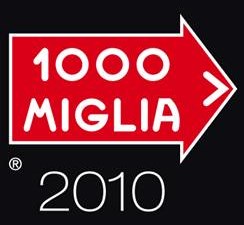 Event Type

Rally, Tour

Date

06 May 2010

to

09 May 2010

Location

Italy

Website
Sorry, we didn't receive an English translation
The 2010 Mille Miglia will be held May 6-9, starting and ending in Brescia, Italy. After the success of this year's event – which attracted four million spectators along its route – the 2010 race officially started with the opening of the entry list and news of a Ferrari tribute.
"The Red Arrow," said the President of the Organising Committee Alessandro Casali, "is conquering the hearts of the Italians and of the world. And that is what we want; that this marvellous race, which is true to its traditions, is recognised and loved everywhere for what it is: a unique event for its fascination and beauty, a symbol of its territory, of motor racing, of Italy."
The entry list is now open and will close on December 20th. As always, 375 cars will be able to compete in the race, and they will be selected using extremely rigid criteria to protect the traditions and characteristics of the Mille Miglia.
The route includes various new developments, such as the passage at Sirmione, Casal Maggiore and Manerbio and a return to the past with a lunch break at Urbino and Buonconvento, but also a passage through the picturesque Umbrian town of Spoleto. But the most important route news is that the Red Arrow will cross Bologna. "After the splendid Ferrara," Paolo Binelli explained, "this year Bologna will be the city of the first stage." Why Bologna? "Because it is one of the areas of the historic Mille Miglia," Binelli continued, "and we want to involve it, also alternating with all the cities of the 1927-1957 race, making the links between the Mille Miglia and the territory of its route grow further."
An additional development is that over 100 Ferraris built between 1958 and today will precede the actual race by 30 minutes. "It will be an event never seen before," affirmed Sandro Binelli, Secretary General of the Organising Committee, "a spectacular tribute to the Mille Miglia and the enthusiasm for the cars, which find their maximum expression in this very race."
Organizers also said the following Models are allowed to participate, even they never started in the original Mille Miglia:
1955 Arnolt Bolide
1929 BNC 527 Monza
1934 Bentley 3½ Litre
1930 Bentley ½ Litre s/c
1955 Ferrari 250 Europa GT
1956 Kieft Turner
1935 Lagonda M45R
1929 Lombard AL3
1955 Lotus Mk IX Climax
1940 MG KN Saloon
1954 Veritas Comet RS