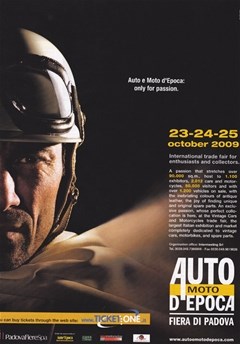 Event Type

Swapmeets/Autojubble

Date

22 October 2009

to

25 October 2009

Location

Italy

Website

Event organiser

Intermeeting S.r.l.

Phone

+39 049 7386856

Email
Sorry, we didn't receive an English translation
Auto e Moto d'epoca
The Italian Vintage Car and Motorbike Exhibition
The car, that item that began the modern age and has always meant technology, modernity and freedom in the public image, has been our driving passion for 23 years, a passion for shaped metal, shiny chrome finishes, roaring pistons. A passion that has made the The Vintage Car and Motorbike Exhibition the most important of its kind in Italy, widely appreciated by the public with more than 60,000 visitors and enthusiasts coming from all over Europe, knowing they will find the most complete exhibition of vintage vehicles and spare parts displayed in the perfect setting for that invention that revolutionized modern life.The Vintage Car and Motorbike Exhibition holds first place in Italy for the number of cars on show, with 1,600 models in the last edition on an area of 90,000 sq.m.
So accept our invitation to come on this journey with us to discover the past and present history, and the future of cars: those futuristic concept cars. A passion that we are enthusiastic to share with you who encouraged it, by designing and manufacturing those longed-for items that we call cars.
Prices and opening hours:
Timetable:
Friday 23th, Saturday 24th, Sunday 25th October 2009
From 09.00 to 19.00
Ticket office opened from 08.30 a.m
Saturday and Sunday the external counters in Nicolò Tommaseo street opened from 8.00 a.m.
Ticket 17 euro
Children under 14 free
Children -17 12 euro
Booking: http://www.ticketone.it
For hotel booking, personalised stays or information contact the following directly:
Petrarca Tours srl
Elena Bada -
[email protected]
Tel. +39.049 654788 - Fax +39.049 8750938
Contact:
Intermeeting S.r.l.
Via XX Settembre 37
35122 Padova - Italy
T +39 049 7386856
F +39 049 9819826
[email protected]
http://www.autoemotodepoca.com