Brussels, Belgium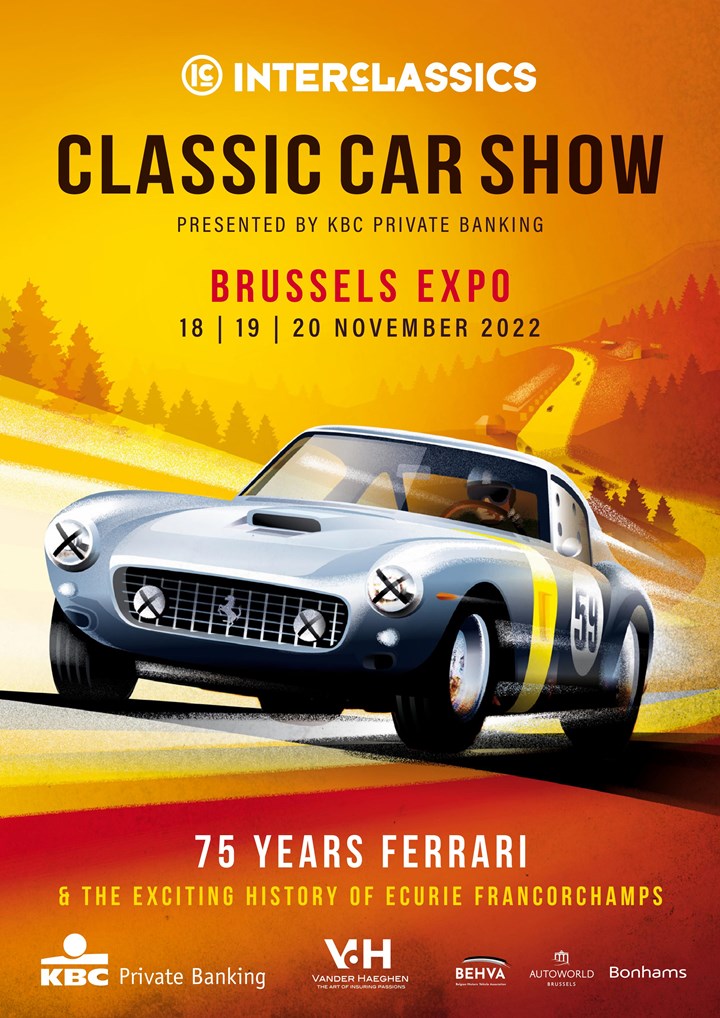 Event Type

Shows, Festivals

Date

18 November 2022

to

20 November 2022

Location

Belgium 1020 Brussels Belgiëplein 1

Website

Event organiser

MECC Maastricht

Inserted By

Phone

+31651358742

Email

Document
InterClassics celebrates 75 years of Ferrari at
Classic Car Show Brussels
Brussels
Expo, 3 March 2022 - From Friday, 18 to Sunday, 20 November 2022, Classic Car
Show Brussels will celebrate the 75th anniversary of the world's
most famous sports car manufacturer, Ferrari. In addition to this milestone,
the unique relationship between Belgium and the 'Scuderia' will also be put in
the spotlight during the seventh edition of this event. As early as 1952, the
Belgian privateer organisation Ecurie Francorchamps was there at the beginning
of the Le Mans and many F1 races with its distinctive yellow Ferraris. In
collaboration with Autoworld Brussels, InterClassics will showcase the Italian
brand's prized specimens.
InterClassics is optimistic
about the new exhibition season. After two tumultuous years fraught with COVID
and restrictions, the possibilities are returning to normal. This is why the
organisation is pleased to present the new theme and the poster designed in the
typical InterClassics style.
Exhibition manager Erik
Panis explains: "After the sixth edition of Classic Car Show Brussels and its
'Jacky Ickx: Tribute to a Racing Legend' theme, we have set the bar extra high
for future editions. We are seizing this challenge with both hands! We expect
to be able to present a very diverse exhibition, particularly with the themes
75 years of Ferrari and Ecurie Francorchamps."
The Ferrari 250 GT SWB
graces the poster of Classic Car Show Brussels and even displays the number 59
in the same style as Ecurie Francorchamps used in 1962. The car boasts an
illustrious history, and after a major racing accident in 1962, the car was
sold to American actor James Coburn, known from The Great Escape and
many other films. Bearing chassis number 2445GT, this Ferrari has since been restored
to its former glory and may be seen regularly in action on circuits such as the
Le Mans Classic and Goodwood Revival.
InterClassics
Classic Car Show Brussels will be held from Friday, 18 through Sunday, 20
November 2022 in Halls 5, 6, 7 and 9 of the Brussels Expo. The classic-car
exhibition traditionally attracts many buyers and enthusiasts. Admission
tickets are available for purchase online at a discount: Online price for
adults: €15.00 (normal price at the door for adults: €18) Children 12 and under:
free of charge.
Tags: