Brussels, Belgium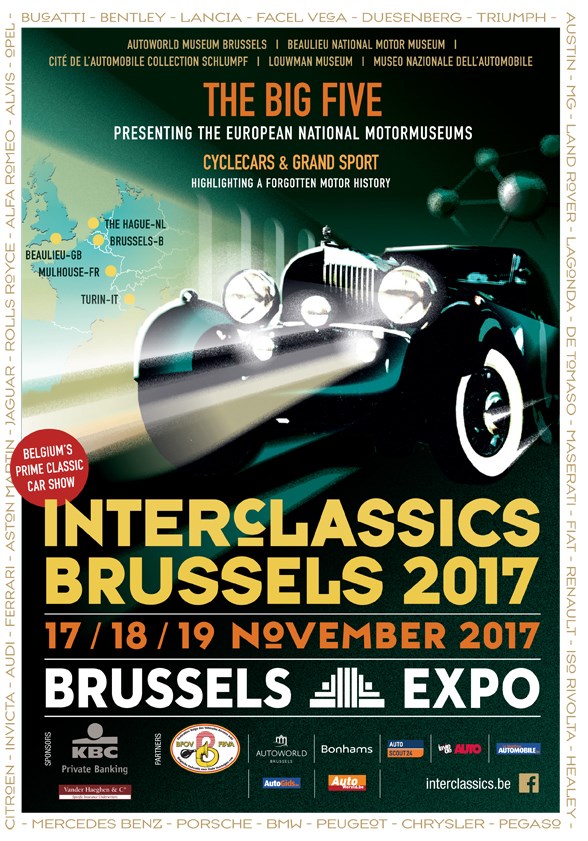 Event Type

Shows, Festivals

Date

17 November 2017

to

19 November 2017

Location

Belgium Brussels Belgiëplein 1, BE – 1020 Brussels

Website
Unique collaboration by the European National Motor Museums at InterClassics Brussels       
'The Big Five, Presenting The European National Motor Museums' is to be the lead theme of InterClassics Brussels. The five leading motor museums of Europe will come together at the third edition of InterClassics Brussels. Each museum will have three of their most prized assets on display. Never previously displayed and therefore a unique opportunity to see unique exhibits from five countries under one roof at InterClassics Brussels from 17 to 19 November 2017 at Brussels Expo. 


Without exception, these museums are renowned for their unique collections of classic cars. Aside from their varied collections, these museums show cars not merely as the most important invention ever, but also the impact of the car on society. The collections of these museums, totalling more than 1,500 classic cars, form an important part of the cultural heritage of five European countries. During the InterClassics Brussels show, each museum will present three of their most prized exhibits, including one pre-war classic car, one car that typifies its museum and one racing car. The Annual Guide of InterClassics Brussels 2017, with its characteristic mix of nostalgia inspired by the lead theme, promises once again to become a real collector's item. 


Autoworld Museum Brussels, Belgium
The Louwman Museum in The Hague, Netherlands
The National Motor Museum in Beaulieu, United Kingdom 
The Cité de l'Automobile/Schlumpf Collection in Mulhouse, France 
Museo dell'Automobile in Turin, Italy 
In addition to the lead them, there will also be a second theme of 'Cycle Cars & Grand Sport, highlighting a forgotten motor history'. We will have around 20 cyclecars on display thanks to our cooperation with Amilcar-Cyclecar Club Netherlands and the Belgian and French clubs. 
InterClassics Brussels will take place from Friday, 17 November to Sunday, 19 November 2017 in event halls 1, 3, 4 and 8 of Brussels Expo. The classic car show traditionally attracts many buyers and car lovers. Discounted entry tickets can be bought online for €12.50 (adults). The price at the box office is €15.00 (adults). Children up to 11 years go free.

 

www.interclassics.be