Germany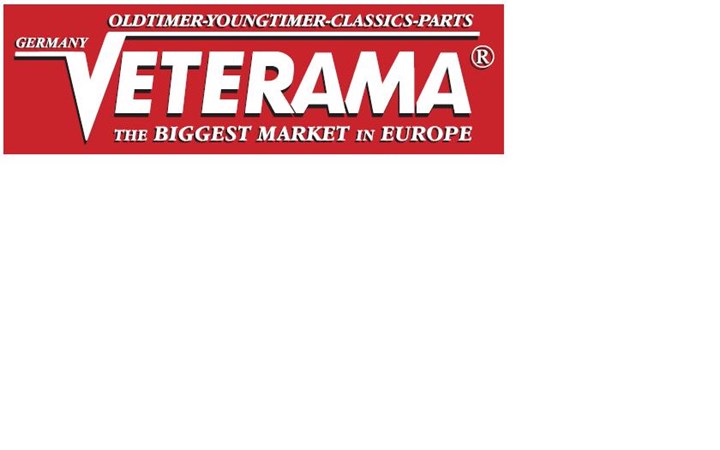 Event Type

Swapmeets/Autojubble

Date

09 October 2010

to

10 October 2010

Location

Germany

Website

Email
Sorry, we didn't receive an English translation
VETERAMA IN OCTOBER: THE HOBBY MECHANICS' MECCA!
• Europe's biggest marketplace for car and motorcycle parts
• Entry on Friday, 8 August possible
• The best place to search, find and grab bargains
• Incredible offers by more than 4000 retailers
The mother of all markets opens its gates on the 9th and 10th of October. The stands for merchants have never been completely booked as early as in this year - just a few stands on the field for late arrivals are still available. Visitors can already get their online tickets from now on.
If there's anything you can't find, maybe it's already sold out or you have just missed it because of the huge choice – that's the unique spirit of the Veterama in Mannheim. And everyone who is in search of "premium scrap" on the 260,000 m2 Veterama grounds or in one of the 15,000 m2 halls, knows exactly what we mean. The traditional autumn market in south-west Germany is a perennial hit and a must-see for every classic and veteran vehicle enthusiast. Three days, from the 8th until the 10th of October 2010, it's all about searching, finding, negotiating, swapping and admiring.
The unique offer is what makes the Veterama special. More than 4,000 merchants and collectors from 13 countries from all over the world offer almost everything connected to the "rustiest hobby in the world". Spare parts for two and four-wheelers, racing accessories, tools, tin toys, watches, model and pedal cars, garage decoration, fuel dispensers, oil racks or militaria exhibits – whoever is in search of something extraordinary mustn't miss this years Veterama!
In recent years, the market place for complete vehicles has become an integral part of the market. Its offer reflects all epochs, but most of the real bargains are classic and veteran cars. Whether it's an unrestored platform lorry or a beautiful Italian convertible: at the Veterama, touching, haggling and testdriving are not only allowed, but even welcome.
Some craft companies are also present at the market. In addition to some restoration experts, the Schweinfurter Fahrzeugakademie demonstrates what one can do with hammer, sheet and some talent. At the area "youth and classic vehicles", located at field 8, you can find information on the work as a restoration expert for historical vehicles right next to the red "Marktbus".
The opening hours are on Saturday from 8.30 a.m. to 6 p.m. and on Sunday from 8.30 a.m. to 4 p.m. Real enthusiasts can search the Veterama already on Friday between 12 p.m. and 8 p.m. with the Insider Ticket which is valid until Sunday. All tickets can be purchased in advance at WWW.VETERAMA.TICKETS.DE.