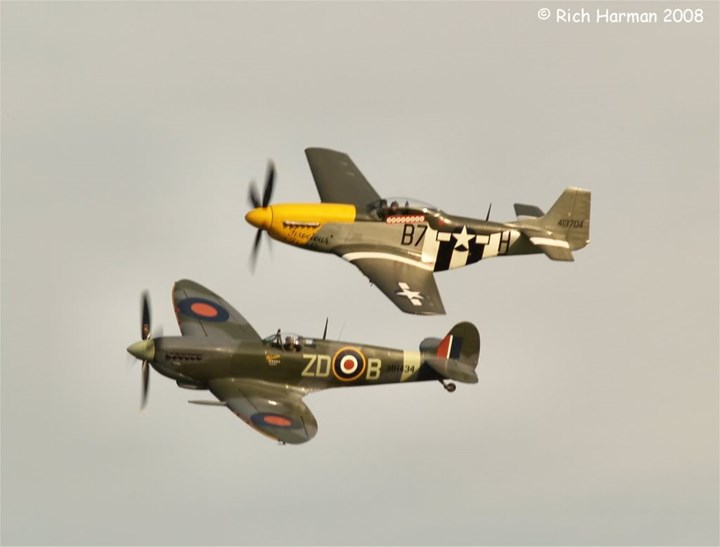 Event Type

Club Meeting

Date

03 September 2011

to

04 September 2011

Location

United Kingdom

Website

Phone

+32 475 390 095

Email
Sorry, we didn't receive an English translation
Next September 2011, Imperial War Museum Duxford http://duxford.iwm.org.uk/ , the spiritual home of the Spitfire, celebrates the aircraft's power and panache in a spectacular air display.
Enjoy the sight and sound of the celebrated British single-seat fighter aircraft in the year that marks the 75th anniversary of the Spitfire's inaugural flight.
The Spitfire was first seen by the public at the RAF Hendon Air Pageant in 1936 and only a few years later formed the backbone of RAF Fighter Command.
Now here is a real treat - 16 Spitfires!!
Watch this video, and turn up the sound loud to really take in the sound of the Merlin engines.
http://www.airshows.org.uk/2010/airshows/duxford-battle-of-britain-airshow-review.html
This exceptional event is only for "Flying Legends" Lovers …
We are organizing a "Special Platinium Club" group that will be travelling together towards Duxford airfield …
Our outcome: to make this a unique moment of passion, dream and brotherhood !
Once on site, each participant will benefit from the following:
· Priority on-site parking (open from 8am, access subject to traffic flow – early arrival recommended)
· Use of private hospitality marquee with luxury toilets (open from 9am)
· Outdoor seating enclosure on the flight line
· Air show admission (includes admission to the Museum and all exhibition hangars)
· Free access to the Flight Line Walk - an opportunity to see the participating aircraft close up on the taxiway - through the marquee & enclosure
· Complimentary air show souvenir programme
· Catering and seating options depending on your choice of package
· Unreserved cafe style seating
·
15% discount in the Museum shop outlets on the day, on production of your Gold Pass badge
· Complimentary hot drink on arrival
· Optional two course buffet lunch from the Gourmet Deli Bar (pre-book only)
Lunch:
- Seafood & Fish
- Salad Bar / Vegetarian
- Meat Deli
- Pudding
Ticket Price:
· Gold Pass One day, with lunch: £104.95
· Gold Pass Two Days, with lunch: £189.90
Hotel Accommodation:
Best Western Cambridge Quy Mill Hotel and Country Inn
http://www.cambridgequymill.co.uk/
Nights of September 2nd and 3rd:
Investment : 150£ B&B per night; each room based on 2 people sharing.
This rate is inclusive of VAT and includes full use of the fitness Centre & Swimming Pool.
If your heart start beating with excitement and impatience … this means you'd better be with us on those days …
To know more about the organization and travel arrangements, please reply to this email at :
[email protected]
or call : 0475 390 095.
I am taking all reservation or intention to join during this month of March 2011.
Looking forward to share this passion ….