Groot-Bijgaarden, Belgium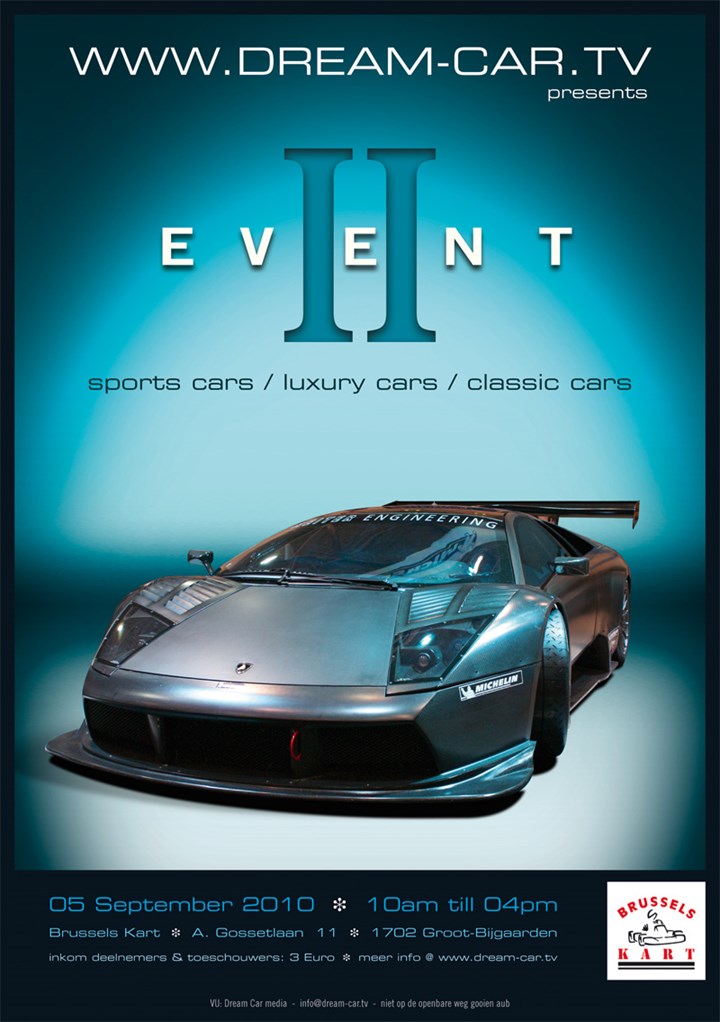 Event Type

Other

Date

05 September 2010

Location

Belgium Bruxelles 1702 Groot-Bijgaarden A.Gossetlaan 11

Website

Event organiser

Willems Dirk

Phone

0475/81-97-30

Email
Sorry, we didn't receive an English translation
Beste Dream-car.tv vrienden,
Na het grote succes van vorig jaar in de Waagnatie te Antwerpen organiseert Dream-car.tv ook in 2010 een nieuw event. Dit maal zal Brussels Kart Expo in Groot Bijgaarden het decor worden, en dit op zondag 5 september 2010.
Het thema van het event is ook dit jaar luxe- sports- and classic cars. Ben je in het bezit van een pareltje of ken je mensen, vrienden of familie met een bijzondere auto of ben je gewoon een liefhebber en wil je een leuk dagje uit, dan wensen wij u van harte welkom.
Alle wagens die aan de voorwaarden voldoen, worden tentoongesteld op het concours. Er zal naar goede gewoonte een snelle hap en een drankje te verkrijgen zijn, maar het mooie restaurant van Brussels Kart biedt ook plaats voor een uitgebreidere menukaart.
Het kartingcircuit is de hele dag geopend aan speciale dream-car.tv kortingen.
Inkomprijs = 3 Euro.
Het event zal doorgaan van 10.00u tot 16.00. op de terreinen van:
Brussels Kart
A. Gossetlaan 11
1702 Groot Bijgaarden
(Het domein ligt direct naast de autostrade en de afrit zellik 21 als je uit de richting van Antwerpen komt – volg de wegwijzers)
Compilatiefilmpje vorig editie: http://www.dream-car.tv/2010/07/06/video-dream-car-tv-event-i-augustus-2009/
Foto's: http://www.dream-car.tv/photos/album/72157622008828711/dream-car-tv-the-first-event.html