Italy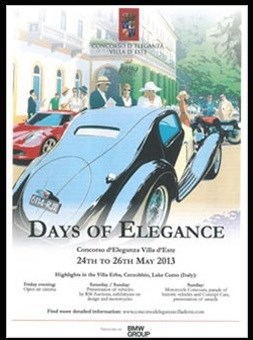 Event Type

Swapmeets/Autojubble

Date

24 May 2013

to

26 May 2013

Location

Italy

Website
Sorry, we didn't receive an English translation
The Concorso d'Eleganza Villa d'Este is perhaps the most significant of all events celebrating the mystique of Historic Cars. It is undoubtedly the most traditional event and was held for the first time in the heyday of aristocratic cars in 1929. Since its revival in the 1990s the Concorso has improved year by year in every one of the benchmarks for these wonderful vehicles. The Concorso is epitomised by the beauty of the setting, the impeccable hospitality, efficient organisation, the programme at the Grand Hotel Villa d'Este and Villa Erba, an enthusiastic audience, the public awareness in the international press and TV, and above all the elegance, originality and the state of preservation of the valuable automobiles participating in the event. Visitors to the Concorso d'Eleganza Villa d'Este imbibe an air of authentic aristocracy infinitely superior to the commercial flair of other events.
On Sunday, all 49 vehicles taking part in this year's Concorso d'Eleganza Villa d'Este will parade in front of the public. A lot of rare cars and one-off specials from yesteryear will be on show in 9 different classes. Once again, the Concorso d'Eleganza Villa d'Este provides the stage to look over the shoulders of development engineers and designers and see into the future. A total of six prototypes and concept cars will give you an idea of what the future of the automobile might look like.
Another highlight is the collection of Corvette models. This year the icon of the "American Dream" on four wheels is celebrating its 60th anniversary and this event looks back on the successful history.