Waregem, Belgium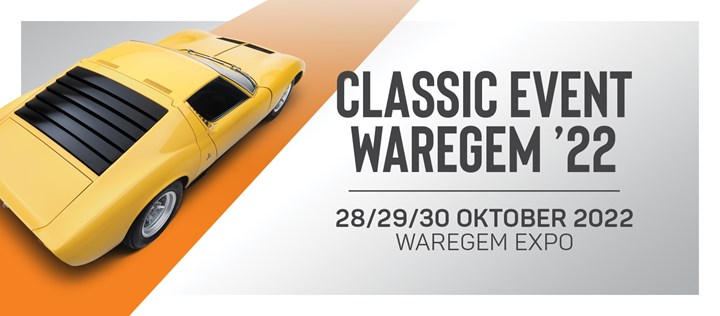 Event Type

Swapmeets/Autojubble

Date

28 October 2022

to

30 October 2022

Location

Belgium 8790 Waregem Zuiderlaan 26

Website

Event organiser

M.A.D.

Inserted By

Email
Sorry, we didn't receive an English translation
Classic Event is hét najaarsevent voor de 'gentleman driver'. Als bezoeker kan u in een relaxte sfeer genieten van een uitgelezen selectie aan 'classic cars', historische motoren, automobilia, automotive art en alles daarrond. Alle standhouders werden persoonlijk en met de grootste zorg voor u geselecteerd en brengen een boeiend en gevarieerd aanbod.
Doorwinterd verzamelaar of eerste aankoop? Op Classic Event is elke liefhebber van (klassieke) wagens welkom. Met een interessante mix van uitzonderlijke collectiestukken en toegankelijke klassiekers is er voor elk wat wils. Classic Event focust op historische wagens in het algemeen, niet op één merk of regio in het bijzonder. Van Volkswagen tot Lamborghini: elke iconische classic car verdient er zijn plaats. 
De innerlijke mens sterken kan met een lekkere maaltijd of een frisse pint in onze 'Le Mans Pit Bar' op Place m'as-tu-vu. Nog even blijven hangen na sluitingsuur? Dat kan perfect in ons gezellige 'Café De Raceduif'.
Tags: