SHARNBROOK, United Kingdom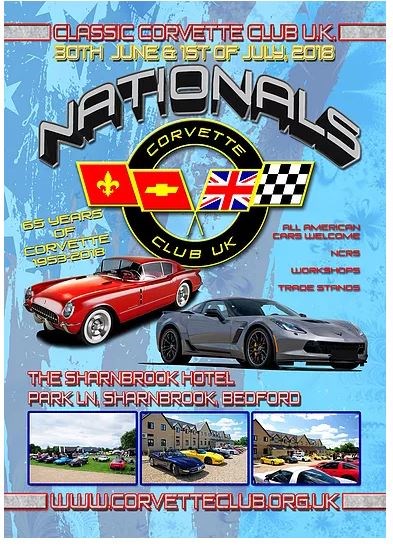 Event Type

Club Meeting· Shows, Festivals

Date

29 June 2018

to

01 July 2018

Location

United Kingdom SHARNBROOK SHARNBROOK HOTEL, SHARNBROOK

Website
Most CCCUK members should be aware now of the provisional plans for our 2018 Nationals. Scheduled over the last couple of days in June/and first Sunday in July. This will always be a 'moving target' as we add further details and update things closer to the event. You'll also be aware if you've been reading Vette News that the previously promised members drag racing event at Santa Pod had to be cancelled once the FIA calendar for the 2018 season was announced. We have Mike Lacey, CCCUK Nationals Organiser looking for an 'alternative' driving event.......
​
Friday 29th June 2018 - members will be arriving mid/late Friday afternoon and booking in to the hotel. Saturday June 30th and there will be a mid-morning/early afternoon event (details tba) The AGM later will be held (as last year) later in the afternoon with the Gala dinner and entertainment in the evening. Sunday 1st July is the main event. You can expect to see some of the very best Corvettes from all years over the weekend together with a display of the very best 'Flight' standard cars from the UK's NCRS Chapter. Hoping to be also showing some Vette related drag racers and others on the Sunday with our very own 'cacklefest' and a RAF 'flyover' if all goes to plan!
Watch this space for further details as they become available.