Essen, Germany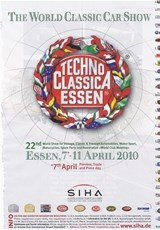 Event Type

Swapmeets/Autojubble

Date

07 April 2010

to

11 April 2010

Location

Germany Essen Norbertstrasse

Website

Event organiser

S.I.H.A. Ausstellungen Promotion GmbH

Phone

+49(0)24 07-173 00

Email
Sorry, we didn't receive an English translation
Techno Classica Essen 2010. Le salon des voitures de collection référence en Allemagne. Le 7 avril sera une journée réservée non ouverte au public.
Defying the Recession: 22nd TECHNO-CLASSICA ESSEN 2010- more attractive than ever
• The world's largest classic car show, from 7th* to 11th April 2010
• All 20 halls fully booked, with a total area of more than 110,000 sqm
• Great interest among international exhibitors, some 2,500 classic cars on sale
* 7th April 2010: preview, press and trade day.
The 170,000 people from more than 40 countries who are expected to visit this year's TECHNO-CLASSICA ESSEN between 7th and 11th April will find a show that is even more attractive, even more spectacular and even more informative than in the past. Now that the organisers, S.I.H.A., have completed the main preparations, the news from the world's largest classic car show is promising: With over 1,000 exhibitors, all the 20 halls with more than 110,000 square meters of exhibition space are fully booked. The more than 300 car dealers will have no less than 2,500 vintage, classic and prestige automobiles and young classics for sale. And more than 200 clubs will be there, making TECHNO-CLASSICA ESSEN the largest classic car club forum in the world this year, too.
This year has seen yet a further increase in the level of interest from international exhibitors – evidence of the unmatched global drawing power of TECHNO-CLASSICA, taking place in this year's world capital of culture. The number of suppliers from abroad has risen again this year – S.I.H.A. received applications from more than 30 countries, including Spain, Argentina, France, Sweden, Portugal, the USA and Italy. Some 1,000 accredited international journalists will be reporting worldwide on TECHNO-CLASSICA.
The carmakers appreciate the drawing power of TECHNO-CLASSICA, too: Traditionally TECHNO-CLASSICA provides the world's largest forum for the major carmakers to stage their – usually very spectacular and elaborate – presentations of their historic cars and relay their message to a global public. And nothing has changed in 2010, despite the slowdown in the automobile industry: This year again, all the major carmakers are going all out to impress the public with their historic presentations, despite drastic belt-tightening in other areas – showing that they recognise the historic dimension as an important economic factor.
"Crisis? What Crisis?" is the title of an album recorded by the rock group Supertramp 35 years ago. A sentiment echoed by the organisers of TECHNO-CLASSICA. For good reason: Unscathed by the slump in the auto industry, the world's largest vintage, prestige and classic car show continues its path of strong and steady growth.
And last, but not least: Essen, the 2010 World Capital of Culture has as its motto "New Energy is Being Generated Here. It's Called Culture". TECHNO-CLASSICA ESSEN is one of the city's 'energy-generation plants', promoting and propagating automotive culture and spanning a bridge between history and tradition and today's world – in an altogether attractive and exciting way.
Organisers:
S.I.H.A. Ausstellungen Promotion GmbH
Tel.: ++49(0)24 07-173 00, Fax: ++49(0)24 07-177 11,
E-Mail:
[email protected]
, Internet: www.siha.de