Dendermonde, Belgium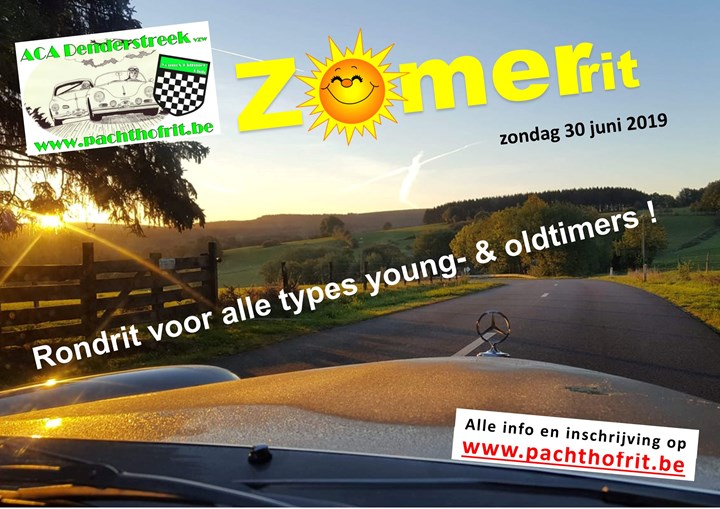 Event Type

Rally, Tour

Date

30 June 2019

Location

Belgium Oost-Vlaanderen 9200 Dendermonde Statieplein 16

Website

Event organiser

ACA Denderstreek

Inserted By

Phone

+32477049802

Email
Sorry, we didn't receive an English translation
Na reeds een aantal mooie
en geslaagde ritten dit seizoen, kijken we zoals ieder van ons uit naar de zomer, natuurlijk kunnen wij dan ook niet ontbreken met onze
Zomer-rit !
De zomer is uitkijken naar ritjes met de young - of oldtimer langs landelijke, rustige wegen en hier en daar met je partner een gezellig terrasje meepikken...
Kortom genieten !
Wij van ACA Denderstreek willen alvast graag het vakantiegevoel met jullie delen op onze Zomer-rit van 30/06/2019.
We starten in de American poolbar rechtover het unieke station daterend uit 1837 op het Statieplein te Dendermonde.
Aangezien de rit op het middaguur vertrekt, hebben we natuurlijk aan de inwendige mens gedacht.
Hamburgerkraam "De Waegenman" zal aanwezig zijn met wat lekkers aan democratische prijzen.
Hotdog
(enkel € 2,50,dubbel € 3)
, hamburger
(€ 4)
, kipburger  
(€ 4)
, broodje mexicano 
(€ 4)
, spekburger 
(€ 5)
, pistolet beenham  
(€ 5)
of braadworst 
(€ 4)
.  

Dit alles verkrijgbaar met verse/ gedroogde ajuin, augurken, sla en tomaat.
Eigen picknick is natuurlijk ook toegelaten
Een namiddagrit langs landelijke wegen !
We vertrekken naar onze eerste tussenstop waar een gezellig terrasje staat te wachten.
​Vervolgens rijden we via 't Geleeg, het 
Steenbakkerij- museum van de Rupelstreek
 en de kleiputten te Niel.
Tags: