Brasschaat, Belgium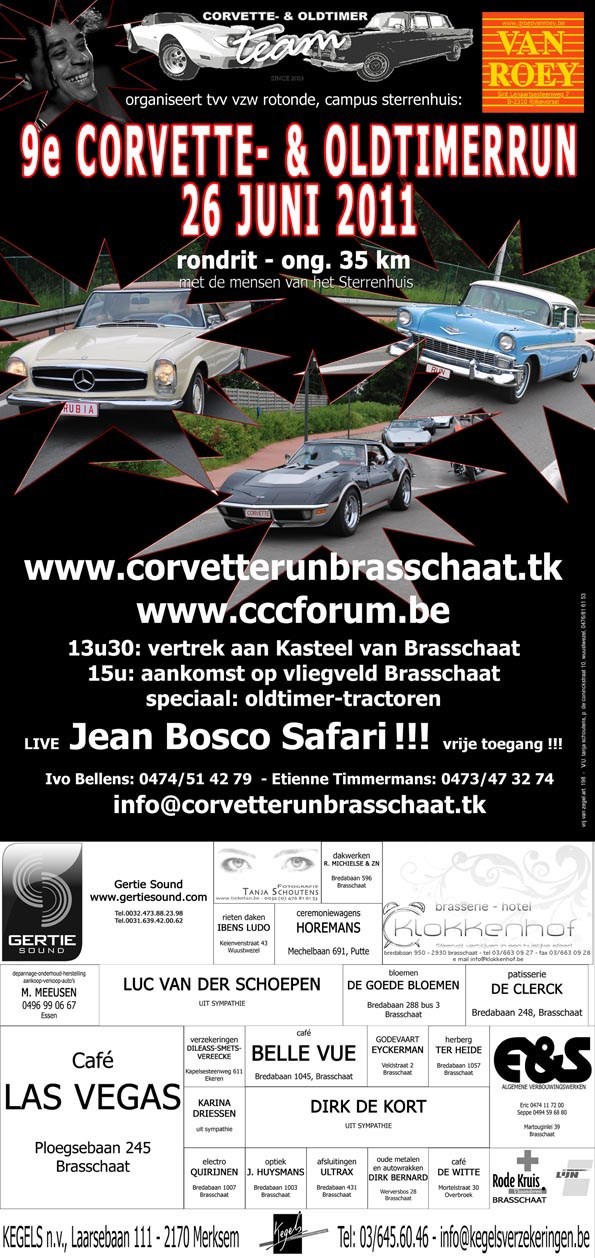 Event Type

Other

Date

26 June 2011

Location

Belgium Anvers 2930 Brasschaat

Website

Event organiser

Corvette- & oldtimerteam Brasschaat

Email
Sorry, we didn't receive an English translation
Een blik op de kalender leert ons, dat we op 5 weken van onze 9e Corvette- & oldtimerrun zijn... Op zondag 26 juni 2011 is het weer zover!!
Nog even de planning voor onze rondrit:
Tussen 12u & 13u verwachten we je met je Ami of Europese oldtimer aan het Kasteel van Brasschaat.
Omstreeks 13u00 komen de mensen van Sterrenhuis en kiezen 'hun' auto uit,
waarmee ze de rondrit willen meerijden.
(uiteraard ben je niet verplicht om een passagier mee te laten rijden, maar het zou wel leuk zijn)
Rond 15u worden we verwacht op het militair vliegveld, aan de Aëroclub.
Daar kan je de auto's bewonderen, vliegtuigjes, én speciaal dit jaar OLDTIMER-TRACTOREN ...
Genieten van de muziek van Jean-Bosco-Safari (tussen 15u & 17u) bij een hapje en een drankje.
Einde: 18u
Belangrijk: deelname aan de rondrit met je Ami of oldtimer is gratis !!
En het is vrije toegang voor alle bezoekers (in het park van Brasschaat én op het militair vliegveld/aëroclub) !!
Info op: http://www.corvetterunbrasschaat.tk en op www.cccforum.be