Ravels, Belgium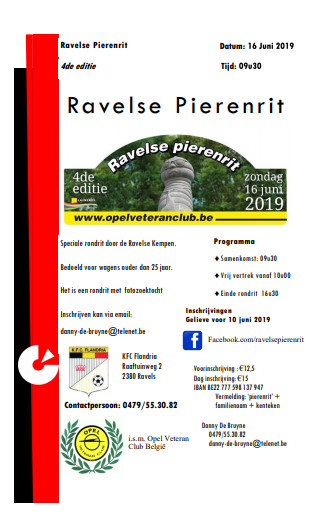 Event Type

Rally, Tour

Date

16 June 2019

to

17 June 2019

Location

Belgium Ravels Raaftuinweg 2 2380 Ravels

Website

Phone

+32479553082

Email
The 4th ravel piers ride is a round trip for all cars older than 25 years.
It is a tour that goes through the northern Kempen and north Brabant NL.
This year the ravel piers ride will leave at a NEW LOCATION!
Namely at the football fields of KFC FLANDRIA at raaftuinweg 2 2380 RAVELS.
You can register via email: [email protected].
Indicate your pits ride and your family name and the registration number of your vehicle when you register.

In attachment you will find the flyer with the necessary information.

On our Facebook page you will also find the necessary information.