Hoogstraten-Meer, Belgium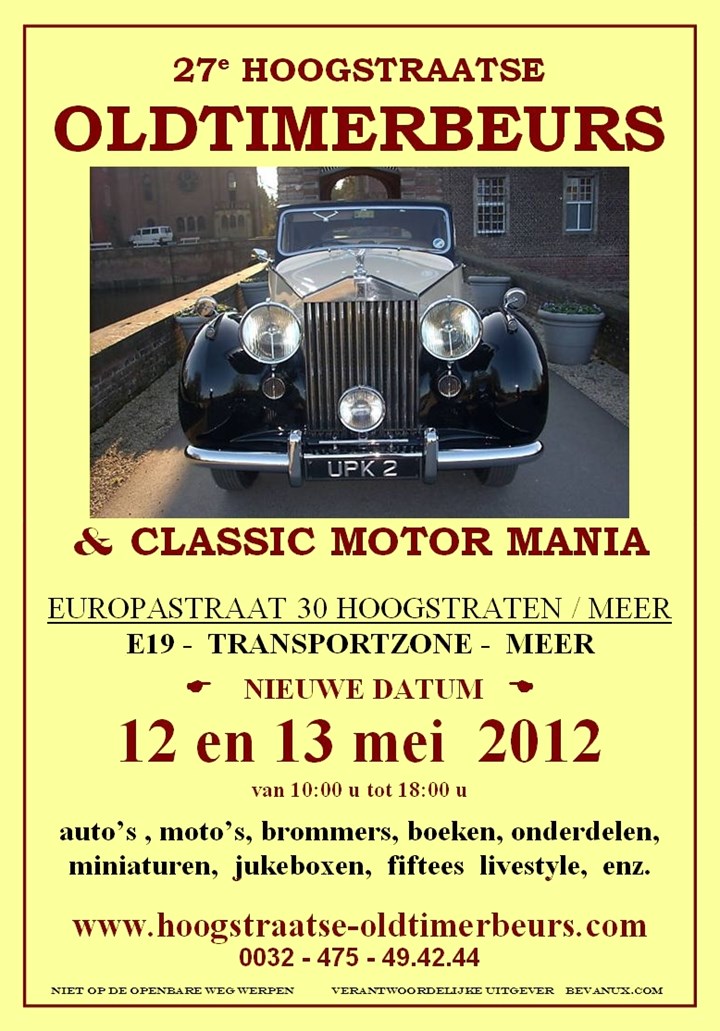 Event Type

Swapmeets/Autojubble

Date

12 May 2012

to

13 May 2012

Location

Belgium Anvers 2321 Hoogstraten-Meer Europastraat 30

Website

Event organiser

Ben van Utrecht

Phone

0032-475-494244

Email
Sorry, we didn't receive an English translation
Beste Oldtimerliefhebbers,
Na het succes van oktober 2011 staan voor de tweede keer de klassieke auto's , motoren en bromfietsen broederlijk naast elkaar onder één dak.
Verder wordt de beurs ook opgeluisterd door oldtimers, motoren, jukeboxen, fiftees lifestyle, onderdelen, boeken, miniaturen, gereedschappen, cafetaria, catering, etc. En dit alles in een verwarmde beurshal van 10.000 m² direkt naast de E19 snelweg Antwerpen-Breda, afslag Transportzone Meer of vanuit Nederland afslag 14 direkt voor de grensovergang na Hazeldonk.
Er is gratis parking en een pendelbus brengt de bezoekers van de parking naar de ingang. Geen probleem voor rolstoelgebruikers.
Bevanux will met de Hoogstraatse Oldtimerbeurs en Classic Motor Mania al het moois dat de automotive sektor aan geschiedenis te bieden heeft in een grote hal samen brengen, onder het genot van gezelligheid, hapjes (er is een cafetaria aan economische prijzen!) en een Cava (gratis!), en wenst, dat alle Oldtimerliefhebbers in mei 2012 weer een onvergetelijk weekend zoals in oktober 2011 kunnen beleven.
Prijs: € 10.00 ( kinderen tot 13 jaar gratis).
Waar? Transportzone Meer, Europastraat 30, 2321 Hoogstraten-Meer
Wanneer? za 12/05/2012, zo 13/05/2012 van 10:00 tot 18:00
Bent U geinteresseerd? Als standhouder of bezoeker?
Zie:
www.hoogstraatse-oldtimerbeurs.com
www.bevanux.com
Beste groeten
Bevanux
Organisator:
Bevanux (Ben van Utrecht)
Druivenstraat 33
2300 Turnhout Belgium
Contact: tel : 0032-475-494244
Email:
[email protected]