Wervik, Belgium

Belgium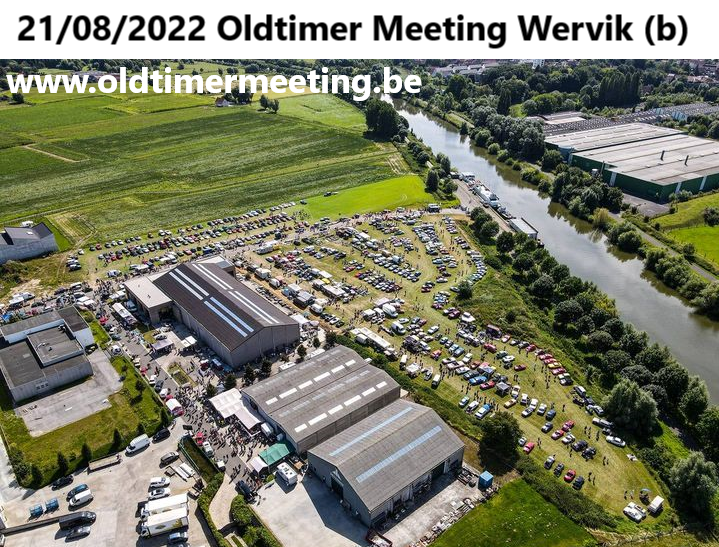 Event Type

Swapmeets/Autojubble· Shows, Festivals

Date

21 August 2022

Departure location

Belgium 8940 Wervik Bootweg

Arrival location

Belgium

Website

Event organiser

Wervikse Oldtimer Liefhebbers

Inserted By

Phone

+32473724468

Email
Sorry, we didn't receive an English translation
De Internationale Oldtimer Meeting Wervik, dat is :
* op zondag 21/08/2022
* ruim 1000 oldtimers : alle modellen van alle merken (30 jaar of ouder, geen youngtimers)
* meer dan 50 stands met wisselstukken, boeken, reclame-materiaal, oldtimer curiosa,...
* meer dan 10.000 bezoekers uit 5 verschillende landen
* een gezellige bonte boel : alles kriskras door elkaar
* gratis inkom voor iedere bezoeker, vrij in en vrij uit
* gratis deelname met oldtimer (van 1988 of vroeger) inschrijven op voorhand niet nodig.
* genummerde en toegewezen standplaatsen voor handelaars en    particulieren d
ie met een verkoopstand komen.  Voor hen is inschrijven op voorhand warm aanbevolen (via deze website, vanaf mei 2022).
* hét trefpunt voor iedere oldtimerfreak !
* dé plaats om te kopen, of te verkopen, of om ideetjes op te doen
* een komen en gaan van oldtimers, de hele dag lang
* een gezellig oldtimer-dorp met eet- en drankstandjes
* geen centraal thema dit jaar : alle oldtimers in de spotlights !
alle info en foto's op www.oldtimermeeting.be
Tags: