Enghien - Edingen, Belgium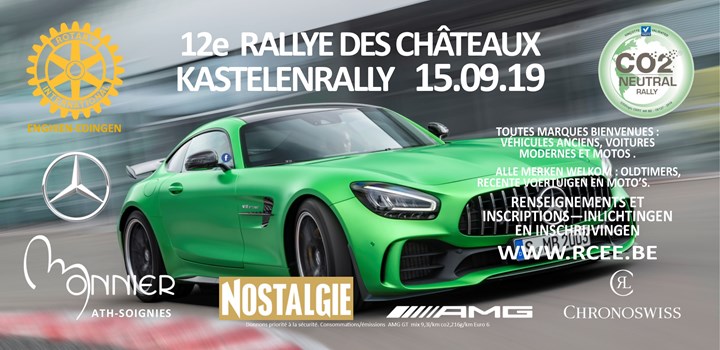 Event Type

Rally, Tour

Date

15 September 2019

Location

Belgium Henegouwen 7850 Enghien - Edingen

Website

Event organiser

Rotary Club Enghien/Edingen

Inserted By

Phone

+32496527982

Email
Sorry, we didn't receive an English translation
Het organiseren van een Rally voor auto's  is een traditie geworden voor Rotaryclub Enghien-Edingen. Deze vindt dit jaar plaats op 15 september en eert het merk MERCEDES. Wij houden wij eraan onze sponsor garage Monnier  http://www.mercedes-benz-monnier.be te Ath & Soignies te bedanken die ons ondersteund hebben in het welslagen van deze rallye. Ook gat onze dank uit naar radio Nostalgie http://www.nostalgie.be en Chronoswiss http://www.chronoswiss.com
Deze twaalfde editie van onze toeristische rally nodigt U uit om in team- of familieverband,  of onder vrienden een omloop te ontdekken op de mooiste routes in Picardisch Wallonie en Vlaanderen. Al dit in onze gezamenlijke passie voor wagens of deze nu oldtimers, prestige, sportieve of toerismewagens zijn.
Deze rit in klassieke auto's geeft u toegang tot de mooiste privéterreinen, exclusief toegankelijk voor de deelnemers van deze Rally.  
Het vertrek vindt plaats aan de Mercedes garage Monnier te Ath en de aankomst aan het college St-Augustin te Edingen. Gedurende deze Rally kan u zich verwachten aan een tentoonstelling van auto's en een wedstrijd "elegantie", evenals een lunchbar, een tombola en de prijsuitreiking.
U kunt onderweg ook het kasteel de Maulde, het kasteel van Anvaing et het kasteel d'Auxy de Launois  ontdekken.
De winsten van deze rallye worden intergraal besteed aan de liefdadigheids doelstellingen van Rotary Edingen.
Uw inschrijving omvat de deelname aan onze rally, het ontbijt en het buffet 's middags. De inschrijvingen worden om organisatorische redenen beperkt tot een 100-tal wagens.
inschrijven via www.rcee.be
Cher ladies and gentlemen drivers,
Il est devenu une tradition pour le Rotary Enghien - Edingen d'organiser son Rallye de voitures. Cette année-ci il aura lieu le 15 Septembre et mettra à l'honneur la marque MERCEDES. Nous tenons à remercier notre sponsor principal : garage Monnier à Ath et Soignies  - http://www.mercedes-benz-monnier.be -  qui nous a soutenu dans le développement de ce rallye. N'oublions pas non-plus Radio Nostalgie http://www.nostalgie.be et Chronoswiss http://www.chronoswiss.com
Cette douzième édition du rallye touristique vous invite à découvrir en couple, en famille ou entre amis des parcours reconnus sur les plus belles routes de la Wallonie Picarde et la Flandre. Tout en partageant votre passion pour les automobiles, qu'elles soient anciennes, de prestige, sportives ou de tourisme.
 Cette promenade en voitures anciennes ou modernes vous permettra d'accéder aux plus belles propriétés privées, ouvertes et accessibles exclusivement pour les participants de cette journée.
Le départ s'effectuera au garage Mercedes Monnier à Ath, pour une arrivée au Collège St-Augustin à Enghien. Exposition des voitures et concours d'élégance vous y attendront ; ainsi qu'un bar-déjeuner, une tombola et la remise des prix après la deuxième boucle de l'après-midi.
Vous pourrez également découvrir le Château de Maulde, le Château d'Anvaing et le Château d'e Auxy de Launois sur le parcours.
 Votre inscription vous donne droit à la participation à notre rallye , le petit-déjeuner et le buffet le midi. Le bénéfice de ce rallye est totalement destiné aux actions philantropiques du Rotary d'Enghien.
Les inscriptions seront limités pour des raisons d'organisation à une centaine de voitures.
Tags: