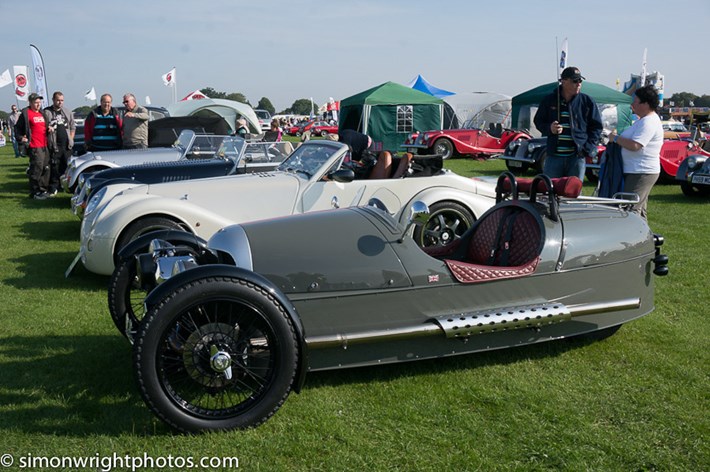 The first show took place at Sywell Aerodrome near Northampton, England at the end of September and was a celebration of classic vehicles and aircraft.
The airport buildings are in an art deco style which added to the atmosphere of the show, which saw the large grass area covered by around 50 car clubs. All types of classic cars, vans and motorcycles on static display from the clubs, with an additional large car park full of classic cars for people to show their pride and joy if the didn't belong to a car club.
There were also lats of trade stands selling classic items and a large classic fun fair in action. The beauty of this venue was that there was plenty of room for some classic motorsport action.
The Taxi way and main runway were used to allow various classic cars to show there performance. There was a large entry of dragsters and American hot rods which did demonstration drag races up the taxi way which was turned in to a short drag strip.
The drivers entertained the crowds with plenty of tyre smoking burn outs as well as high speed runs. Once the hot rods had followed the dragsters, it was the turn of the more traditional racing cars to race up the taxi way and then turn out on to the main runway for a high speed blast down the long straight. This quickly became a short straight when three fairly recent Grand Prix cars took their turn, with an ex-Michael Schummacher Benetton, A Leyton House March and a yellow Lotus Type 101 from the 1980s and 90s took their turn to race up the track.
They were followed by various vintage and classic racing cars, saloons, GTs and Sportscars along with classic racing motorcycles and karts.
As the title of the event suggested, the Props side was covered by some fantastic air displays, including a couple of Spitfire aircraft giving solo displays and the World famous Breitling Wingwalkers aerobatic formation team. To finish off this fantastic weekend there were various music acts bring jazz and swing to entertain the crowd of around 13,000 spectators. Next years event should be even better on the 27th and 28th September 2014.
By Simon & Janet Wright.