Drogenbos, België

België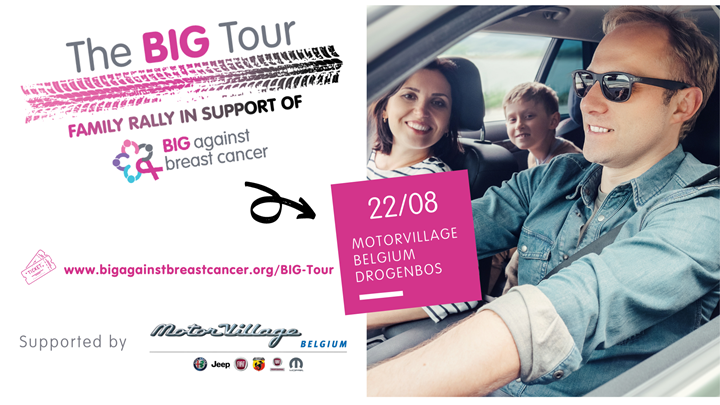 Type evenement

Rally, Uitstap

Datum

22 augustus 2021

Vertrek locatie

België 1620 Drogenbos Motor Village Belgium | Grote baan, 332

Aankomst locatie

België Province Brabançonne

Website

Evenementen organisator

BIG against breast cancer

Inserted By

Telefoon

+32476818388

Email
Sorry, wij hebben geen Nederlandse versie gekregen
Adventure awaits! Join us for the "BIG Tour" Rally.
Come and enjoy a fun and enriching family experience in the region of Waterloo through the exciting BIG Tour Rally.
Register now: www.BIGagainstbreastcancer.org/BIG-Tour

The stages of the rally are a mystery, but with our handy roadbook to guide your way and a little bit of wit to decipher the instructions and challenges, you and your co-pilots will explore all the hidden treasures the area has to offer. To start off on the right foot (or tire?), you will be received at Motor Village Belgium in Drogenbos with a delicious hot croissant and coffee. At this time, you will also be given your rally kit to help you take on the adventure that awaits you!
 At the end of the rally, you will be greeted with a glass of champagne while a prize-giving ceremony for the winners takes place and, for those who are hungry, lunch will also be available.

---
Over de organisator
BIG against breast cancer is het filantropische luik van Breast International Group (BIG). De Breast International Group (BIG) is een non-profitorganisatie en het grootste internationale netwerk van academische onderzoeksgroepen dat zich inzet tegen borstkanker. BIG voert al 20 jaar klinische studies en onderzoeksprogramma's uit, op zoek naar betere behandelingen tegen borstkanker.