Johannesburg, Zuid-Afrika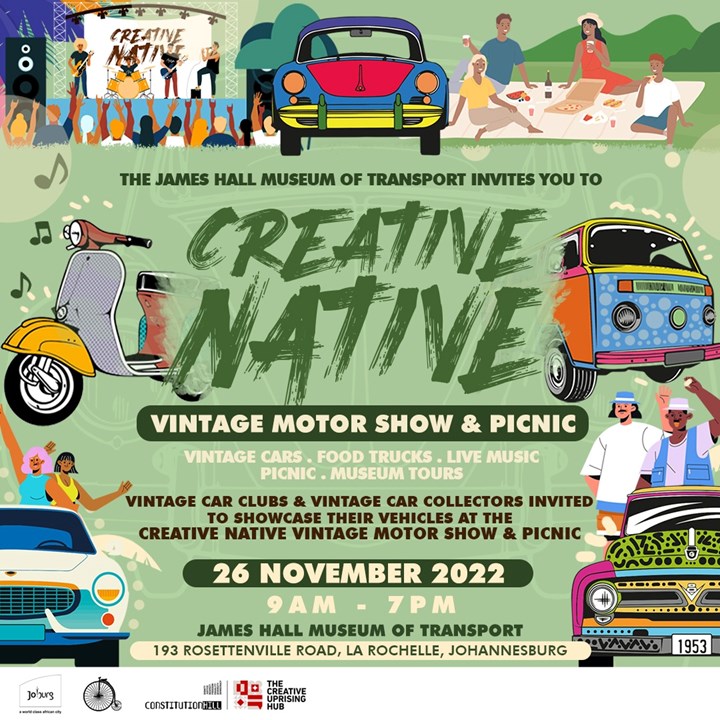 Type evenement

Tentoonstelling, Festival, Salon

Datum

26 november 2022

Locatie

Zuid-Afrika Gauteng 2197 Johannesburg 193 Rosettenville Road, La Rochelle, Johannesburg

Evenementen organisator

James Hall Museum of Transport

Inserted By

Email

Document
Sorry, wij hebben geen Nederlandse versie gekregen
In celebration of the history of Joburg's land transport, on 26 November 2022 (from 9am to 7pm) the James Hall Museum of Transport will once again host the Creative Native Vintage Motor Show & Picnic for Joburg's local communities. Earlier in the year, we had a similar event and it was exceedingly successful and we are really excited to host another brilliant one!
The museum will showcase its valuable transport collection, artefacts and memorabilia through guided museum tours including a curated outdoor exhibition of vintage cars  by various motor clubs and private collectors. The event will give vintage car enthusiasts an opportunity to share their collections with other collectors and the general public. This event also sets out to provide a platform for the creative local community to learn about the city's valuable history and heritage and also sets out to encourage a museum-going culture.
This family fun day will be accompanied by a vintage craft market, live music entertainment and, to keep up with the theme of the day, vintage food trucks will be selling food and refreshments to visitors. Visitors are invited and encouraged to bring their picnic blankets, cushions, and chairs to enjoy the activities of the day in a relaxed environment.
Vintage car clubs and vintage car owners are invited to attend the event to showcase their vehicles. To book space please email both [email protected] and [email protected]